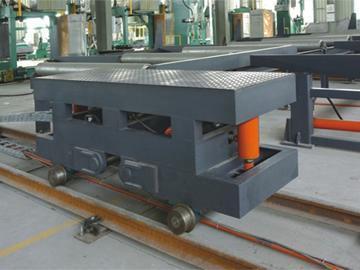 Description
The cart-on-track conveyor can be used for workpiece translation from the roller conveyor or other equipment to the relative processing equipment in order to accomplish relative processing step according to the production process of box beam.
The cart-on-track conveyor mainly has two functions: traveling and lifting. It is safer than traveling crane hoisting because the workpiece to be transported is has smaller ground clearance. This conveyor has simple structure, convenient operation and stable running.
Technical parameter
1
Max weight of work-piece
T
8/unit
2
Max size of work-piece
mm
800x1500(WxH)
3
Lifting distance
mm
50
4
Moving speed
mm/min
3200
5
Hydraulic station
1 set, Chinese or other brand customer choose
Jinfeng introduction
Jinfeng has 2 large specified accessory warehouse with sufficient stock, so that we can provide service in time.
We have a stable sales team. All the members of the sales team have more than 10 years of experience in service, so that they can provide customers with various consultation and services rapidly, in time and expertly. Our executive vice president leads an after-sales service team of 30 employees, so that they can provide 24-hour after-sales service all year round.
Jinfeng Welding & Cutting Machinery Manufacture Co., Ltd hires senior engineers from ESAB to lead mechanical department, electrical department and software department. There are 80 people in the team in total. They will carry out development and design of various structural steel H beam production lines, so that we have technical guarantee.
Jinfeng has strong production capacity: we have 13 imported CNC machining centers, 3 4mx12m large machining centers and 300 equipment sets such as CNC grinding machine, drilling machine and milling machine etc.
We also have specified hardware processing workshop, plate welding workshop, assembly shop, packaging shop, painting and drying shop etc.
The key part of the complete cart-on-track conveyor is rack assembly which is carried out by CNC machining center.

Meanwhile, it can be multi-surface processed. So the installation precision and machine service life can be ensured.
We have a technical team with 80 employees, providing R&D, design, training and after-sales service.