Parameters for different product models
XHG1512 Cantilever Submerged Arc Welding Machine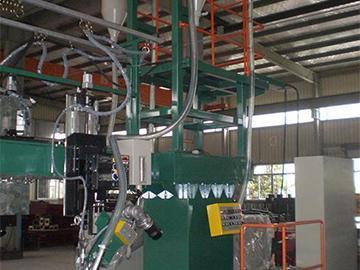 Rail span: 1500mm
Effective welding width: 160-1500mm
Machine width: 2000mm
Machine length: 2500mm
Rail length: 20000mm
Effective welding length: ≤14500mm
Slope of variable section: ≤300
Distance between two torches: ≤1500mm
Solder wire diameter: Decided by the welding process
Non welding travel speed: 0-6000mm/min
Welding speed: 0-1000mm/min
Shift amount of cross slide rack: 150mm
Capacity of wire reel: > 25kg/reel
Capacity of flux case: > 100L/case
Tracking precision: +0.3mm
Drive mode: Bilateral drive
Welding power source: Lincoln, America, DC1000
MBH30 Gantry CNC Submerged Arc Welding Machine
| | |
| --- | --- |
| Rail span | 3000mm |
| Effective welding width | 150-1500mm |
| Base machine width | 3900mm |
| Base machine length | 1900mm |
| Rail length | 20000mm |
| Effective welding length | ≤15000mm |
| Slope of variable section | ≤300 |
| Distance between two torches | ≤1400mm |
| Solder wire diameter | φ3~φ5mm |
| Non welding travel speed | 0-3000mm/min |
| Welding speed | 0-1000mm/min |
| Capacity of wire reel | > 25kg/reel |
| Capacity of flux case | > 100L/case |
| Tracking precision | 土0.5mm |
| Drive mode | Bilateral drive |
| Welding power source | MZ-1250, homemade |
Application
The steel tapered beam welding machine is designed for H tapered beam welding. It is mainly used for automobile beam welding.
Features
The steel tapered beam welding machine has the following features
1. The longitudinal cart and cross beam adopts enhanced box-type welding structure. It also adopts linear rail to ensure guide precision of cutting torch.
2. The welding machine realizes high intensity longitudinal drive by gear and rack. The precise longitudinal servo motor can provide the movement speed of 0-6m/min.
3. The lifting unit of this machine adopts linear rail and ball screw for guiding and positioning.
4. The left and right, up and down movement of the welding torch adopts manual fine adjustment.
5. The automatic contact welding seam tracking unit keeps pace with the welding tip. Each set of unit consists of one altitude sensor and one horizontal sensor. The tracking precision is +0.25mm. It has the function of back pulling and arc striking.
6. This welding machine has two sets of flux recovery units.
7. The rail is processed by the end face processing machine, then high-frequency quenched and then fine ground by the rail grinding machine, thus ensuring the smooth and precision of long-term machine running.
8. The machine is control by 6-axis, so that it can realize any welding motion.
9. The longitudinal movement of the machine is carried out by drag chain.
10. The control system adopts MM×200 chip, 136M memory, 32M DOM, 1.44M floppy drive, P28 high resolution, 15" color LCD flat panel screen, Win98 operating interface.
11. The automatic integrated control of control system and welding power source can be realized, thus the machine can carry out automatic seam butt joint, back pulling and arc striking, arc extinguishing and electricity shutting off and manual adjustment of standard parameters of welding.
12. This machine can store more than 100 processing procedures with power-off protection.
13. The welding traveling path can be displayed by the mobile cursor after the beginning of the welding.
14. The program input can change the rotation angle and X-axis, Y-axis mirroring.
15. It has the function of quick return.
Jinfeng introduction
Jinfeng has 2 large specified accessory warehouse with sufficient stock, so that we can provide service in time.
We have a stable sales team. All the members of the sales team have more than 10 years of experience in service, so that they can provide customers with various consultation and services rapidly, in time and expertly. Our executive vice president leads an after-sales service team of 30 employees, so that they can provide 24-hour after-sales service all year round.
Jinfeng Welding & Cutting Machinery Manufacture Co., Ltd hires senior engineers from ESAB to lead mechanical department, electrical department and software department. There are 80 people in the team in total. They will carry out development and design of various structural steel H beam production lines, so that we have technical guarantee.
Jinfeng has strong production capacity: we have 13 imported CNC machining centers, 3 4mx12m large machining centers and 300 equipment sets such as CNC grinding machine, drilling machine and milling machine etc.
We also have specified hardware processing workshop, plate welding workshop, assembly shop, packaging shop, painting and drying shop etc.
The key part of the complete steel tapered beam welding machine is rack assembly which is carried out by CNC machining center. Meanwhile, it can be multi-surface processed. So the installation precision and machine service life can be ensured.
We have a technical team with 80 employees, providing R&D, design, training and after-sales service.