Description
The maximum processing speed of the TFG plasma laser cutting machine can be up to 24000mm/min, so that the working efficiency is improved. By improving the control method of cutting movement, the plasma laser cutting surface can be much smoother. This machine can realize several types of processing method such as cutting and marking under different power and speed by the same laser cutting procedure file. For customers' convenience, this machine is equipped with the following functions: foreground and background manufacturing output and programming at the same time and pre-cutting of processing area.
Application
The TFG plasma laser cutting machine can be widely used for cutting, carving and marking of polymethyl methacrylate, acrylic and some other materials. The plasma processing can be used for cutting of cold-rolled sheet, stainless steel, galvanized plate, copper, aluminum and some other metal sheet.
Sample
Parameter of plasma laser cutting machine
| | |
| --- | --- |
| Item | Parameters |
| Processing width | 3000mm×1500mm |
| Horizontal effective stroke | ≥1550mm |
| Longitudinal effective stroke | ≥3080mm |
| Z axis stroke | ≥120mm |
| Load of working table | 900kg |
| Longitudinal speed (MAX) | 36m/min |
| Horizontal speed (MAX) | 36m/min |
| Z axis speed (MAX) | 24m/min |
| Z axis follow-up speed (MAX) | 10m/min |
Parameters of cutting precision
| | |
| --- | --- |
| Item | Parameter |
| Homing precision | 0.05mm |
| Positioning precision | ≤±0.05mm/500mm |
| Right angle precision | ≤±0.2mm (1.5m*3m) |
| Cutting nozzle sensing precision | ≤±0.1mm |
| Processing size precision | Processing 3m*1.5m, precision±0.05mm (carbon steel plate less than 3mm) |
| Cutting width | 0.1-0.3mm (according to the plate thickness) |
| Cutting roughness | ≤6.3-12.5 um(according to the plate thickness) |
| Cutting slope | ≤1° |
Parameter of optional material
Material
Gas
Thickness (MAX)
Mild steel
O2
Max cutting 16mm, high quality cutting 14mm
Stainless steel
N2
Max cutting 8mm, high quality cutting 6mm
Aluminum alloy
N2
Max cutting 5mm, high quality cutting 3mm
Minimum cutting aperture
When the thickness of plate less than 3mm; ≤plate thickness
Components of plasma laser cutting machine
Lathe structure
The TFG plasma laser cutting machine adopts desk type gantry bilateral drive structure, so that the lathe has faster accelerated speed and stability under high speed. It mainly consists of lathe bed, gantry beam, bilateral precise drive gear and rack etc. The pipeline is fully sealed for protection. The cross beam rides across the machine working table, and it can move longitudinally along the linear rail and drive unit on the working table. The box type cross beam is equipped with linear rail and drive unit. The horizontal drive unit adopts the linear rail as moving guide. It realizes horizontal movement by meshing of gear and rack.
---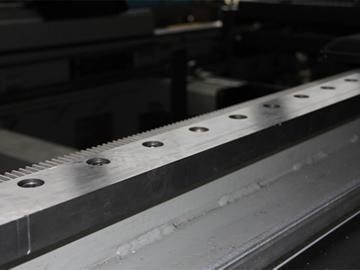 Longitudinal and horizontal rack
This cutting machine adopts imported precise rack which is precisely detected, matched and installed to ensure the stable running and transmission precision of the machine.
---
Longitudinal and horizontal drive
The drive is combination of high rigidity precise gear reducer and AC servo motor. It can realize longitudinal and horizontal machine movement by flexible meshing of gear and rack.
---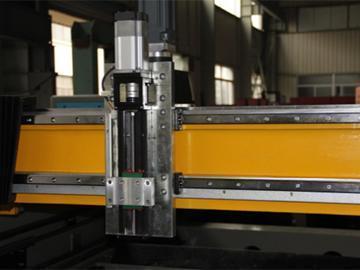 Cutting torch lifting unit
The cutting torch lifting unit adopts double linear rail guide and precise ball screw as the transmission method, so that the torch lifting is quite stable. It also has dual protection of mechanical position limitation and soft limit to ensure cutting quality and lifting safety of laser cutting torch.
---
Longitudinal and horizontal drag chain unit
There is many service cables and air sources which should be lead into the cutting machine along its longitudinal and horizontal moving direction. Because there are more longitudinal cables and gas pipes, the longitudinal movement has quite large moving load which will reduce the running stability and reliability of the machine. So, the longitudinal drive system adopts drag chain servo unit to ensure the longitudinal and horizontal running stability.
Control system
The control system consists of CNC system, laser device, reflector path system, servo system, control cabinet etc.

---
CNC system
The CNC system of Jinfeng TFG plasma laser cutting machine adopts the CNC and digital servo drive system imported from FAGOR Spain: FAGOR is a world famous enterprise in CNC system industry. The product of FAGOR is one of the CNC systems with largest market share in laser cutting machine industry in China. FAGOR has offices in Beijing, Guangzhou, Shanghai, Dalian etc. Meanwhile, this CNC system are always available in large stocks in Jinfeng, so that we can provide in-time, rapid and localized services for our customers.
---
Laser cutting head and follow-up system
The laser cutting head is a specific fiber laser cutting head with magnetic anti-collision components and function of LaserMECH. The drawer type lens holder allows rapid focus lens replacement. It can be able to carry high pressure auxiliary gas of 25bar, so that the cutting machine can realize stainless steel cutting by using high pressure auxiliary gas.
The cutting head is equipped with follow-up positioning altitude sensing system with high response and high reliability. The positioning precision can be ±0.1mm. It can realize automatic tracking and spacing correction between the surface of workpiece and cutting nozzle, relative location adjustment of laser focus and the plate, thus prevent the effect of cutting quality caused by the irregular plate to be cut.
---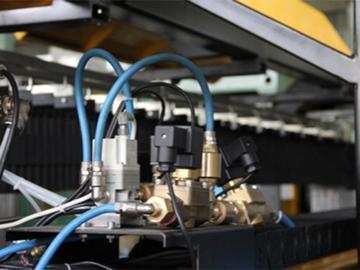 Gas path system
The gas path system adopts imported electromagnetic valve and some components. By using the precise pressure proportional valve for automatic and precise pressure control of cutting auxiliary gas, this cutting machine can realize connection with three different auxiliary gas which can be automatically switched without manual adjustment during cutting. The machine is also equipped with high pressure gas unit which can be specially used for cutting of stainless steel and some other material with larger thickness.
---
Jinfeng introduction
Jinfeng Welding & Cutting Machinery Manufacture Co., Ltd hires senior engineers from ESAB to lead mechanical department, electrical department and software department. There are 80 people in the team in total. They will carry out development and design of various structural steel H beam production lines, so that we have technical guarantee.
Jinfeng has strong production capacity: we have 13 imported CNC machining centers, 3 4mx12m large machining centers, so that the annual output of various assembly machine is 1000.
We have a stable sales team. All the members of the sales team have more than 10 years of experience in service, so that they can provide customers with various consultation and services rapidly, in time and expertly. Our executive vice president leads an after-sales service team of 30 employees, so that they can provide 24-hour after-sales service all year round.