Application
The steel plate curve cutting machine is mainly used for groove cutting of various carbon steel plates. During the processing of wind turbine hydraulic tower and water pressure pipe, we should carry out cutting of large amounts of sector plate and hyperbola with various beveled edges.
This cutting machine can carry out cutting of V shaped and K shaped bevel on both sides with different curvature of the plate at the same time. The cutting finished parts can be directly used for automatic welding after rolling forming.
Samples
Features
1. The steel plate curve cutting machine consists of cross beam and two longitudinal end frames. The two end frames adopt low structure design, thus ensuring the machine stability. The two groups of horizontal main cutting torch respectively adopts AC servo driving system which can be controlled independently. It realizes horizontal driving by using gear and rack. The longitudinal movement of the machine adopts bilateral drive which is realized by gear and rack.
2. The CNC cutting control system is the specific control system specially developed by Jinfeng for the steel plate curve cutting machine. It adopts 32 bit Linux real-time operating system, thus realizing multitask operation with high performance, high stability and virus interference resistance. This means that the machine can carry out multi-operation such as file edit, graphics treatment, parts nesting, network transmission, parameter setting, cutting torch gating etc. during parts processing.
3. This cutting machine is equipped with 17" LCD touch screen with high resolution, so that it has intuitive interface and simple operation. Through the network interface, it can be connected with random PC in the network, realizing cutting file transmission, processing site monitoring and the subsequent software update. Thus, it brings great convenience for operators and programmers.
4. By using this machine to process the bi-arc groove curve parts, you just need to know the essential parameters of the parts, and there is no need of manual programming.
Parameters
| | |
| --- | --- |
| Rail span | 4000 mm |
| Rail length | configure as required |
| Horizontal effective stroke | 3000 mm |
| Longitudinal effective stroke | rail length~2000 mm |
| Group number of cutting torch | 2 groups |
| Cutting speed | 100~750 mm/min |
| Non cutting speed | 6000 mm/min |
| Lifting distance of cutting torch | 200 mm |
| Steel plate cutting thickness | 6~150 mm |
| Steel plate groove cutting thickness | 6~70 mm |
| Cutting oxygen pressure | 0.784~0.882 Mpa |
| Preheat oxygen pressure | 0.392 Mpa |
| Gas pressure | 0.049 Mpa |
Parameter bi-arc groove parts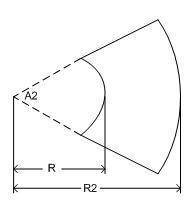 The following table displays the marking precision of steel plate curve cutting machine:
| | | | | |
| --- | --- | --- | --- | --- |
| No. | Test item | Allowable deviation | Measured deviation | Conclusion |
| 1 | Side length error (four sides) | ≤0.5mm | | |
| 2 | Diagonal deviation | ≤0.5mm | | |
| 3 | Homing error | ≤0.2mm | | |
| 4 | Diagonal deviation | ≤0.3mm | | |
| 5 | Intersection point deviation | ≤0.5mm | | |
| 6 | Line and anti-curve line error | ≤0.2mm | | |
Jinfeng introduction
Jinfeng Welding & Cutting Machinery Manufacture Co., Ltd hires senior engineers from ESAB to lead mechanical department, electrical department and software department. There are 80 people in the team in total. They will carry out development and design of various structural steel H beam production lines, so that we have technical guarantee.
Jinfeng has strong production capacity: we have 13 imported CNC machining centers, 3 4mx12m large machining centers, so that the annual output of various cutting machine is 1000.
All the members of the sales team have more than 10 years of experience in service, so that they can provide customers with various consultation and services in time. Our executive vice president leads an after-sales service team of 30 employees, so that they can provide 24-hour after-sales service all year round.