Parameters of different product model
1. JZ40 H Beam Straightening Machine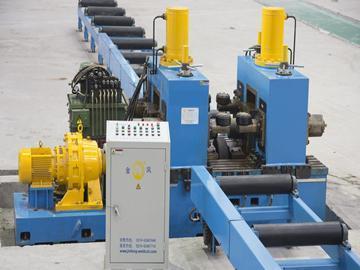 Flange width range: 200-800 mm
Flange thickness range: 6-40 mm
Minimum web height: 200-1800 mm
Suitable material: mild steel (Q235)
Straightening speed: 13000 mm/min
Motor power: 11 kW
Power source: AC 380V 50Hz 3 phase
Input roller conveyor: effective length 10m
Output roller conveyor: effective length 10m
---
2. YJZ60B Hydraulic Straightening Machine
Applicable web height: 200-2500mm
Applicable flange slab thickness: 8-80 mm (material is Q235)
8-60 mm (material is Q345)
Applicable flange slab width: 200-800mm
Straightening speed: 6700 mm/min
Hydraulic system pressure: 16 MPa
Base machine power: 15kW
Input/output roller conveyor length: 12 m+12m
---
3. YJZ80B Hydraulic Straightening Machine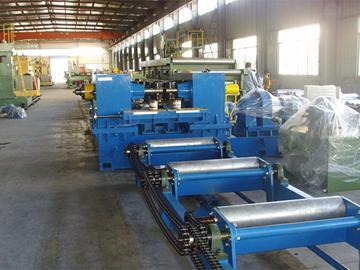 Applicable web height: 450-3000 mm
Applicable flange slab thickness: 20-100 mm (material is Q235)
Applicable flange slab width: 200-800mm
Straightening speed: 6000mm/min
Hydraulic system pressure: 16 MPa
Total power: 27 kW
Lifting roller conveyor input/output length: 12 m+12m
Dimensions: 4818×1660×1506 mm
---
Product application
There will be inevitable bend deformation of the flange slab of the welding finished H beam caused by thermal expansion and contraction. The steel H beam straightening machine is the specific equipment which can be used for deformation straightening.
Product features
The steel H beam straightening machine has the following features
1. The lifting of top roller of the structural steel straightening machine is control by hydraulic cylinder, so that the flange slab is under stress. This straightening method has the following advantages: uniform stress, little resilience, simple structure and convenient operation.
2. The front and back floating roller of the machine is controlled by hydraulic cylinder, so the transportation of H beam is stable.
3. The motor makes the driving roller rotate by the cycloid reducer and universal joint. The driving roller can transport the H beam passing through the hydraulic pinch roller to realize flange slab straightening. The power is stable, continuous and powerful.
4. The web clamping device is the combination of hand wheel and hydraulic cylinder, so that it is simple and convenient.
Jinfeng introduction
Jinfeng Welding & Cutting Machinery Manufacture Co., Ltd has mechanical department, electrical department and software department. There is 80 people in the team in total. We also hire senior engineers from ESAB to carry out joint development and design of various structural steel H beam production lines, so that we have technical guarantee.
Jinfeng has strong production capacity: we have 13 imported CNC machining centers, 3 4mx12m large machining centers, so that the annual output of steel H beam straightening machine is 1000.
All the members of the sales team have more than 10 years of experience in service, so that they can provide customers with various consultation and services in time. Besides, Jinfeng is equipped with an after-sales service team of 30 employees, so that they can provide 24-hour after-sales service all year round.