Parameters of different models
1. MZG40 (50) Gantry Type Submerged Arc Welding Machine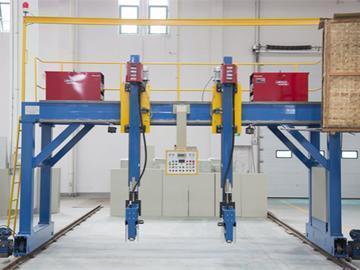 Applicable workpiece range
H beam width: 200-800 mm
H beam height: 200-1500 mm (MZG40) 200-1800mm (MZG50)
Rail span: 4000 mm
Rail length: 20000 mm
Welding speed: 250-1000 mm/min (decided by the welding process)
Non welding travel speed: 3000 mm/min
Welding arms: 2sets
Welding power source: 2sets
Soldering wire dimension: Φ3~Φ5 mm
Welding flux recycle system: 50L ×2
Drive mode: bilateral drive
Control mode: stepless frequency speed regulation
Power source: 380 V / 3 PH / 50 HZ
---
2. TM T-Type Submerged Arc Welding Machine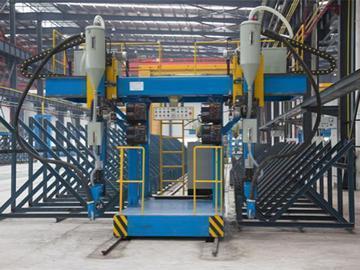 Applicable workpiece range
H beam width: 200-1000mm
H beam height: ≥200mm
Rail span: 1400mm
Rail length: 20000 mm
Welding speed: 250-1000 mm/min (decided by the welding process)
Non welding travel speed: 3000 mm/min
Welding arms: 2sets
Welding power source: 2sets
Soldering wire dimension: Φ3~Φ5 mm
Welding flux recycle system: 50L ×2
Drive mode: bilateral drive
Control mode: stepless frequency speed regulation
Power source: 380 V / 3 PH / 50 HZ
---
3. DMM50 (60) Multi-Function Gantry Type Submerged Arc Welding Machine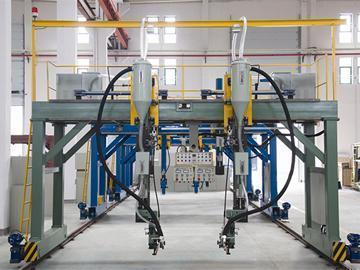 Applicable workpiece range
H beam width: 200-800 mm
H beam height: 200-2000 mm (DMM50) 200-2500mm (DMM60)
Box beam cross section: 300~1200 (DMM50)
300~1500(DMM60)
Rail span: 5000 mm (DMM50) 6000mm (DMM60)
Rail length: 20000 mm
Welding speed: 250-1000 mm/min (decided by the welding process)
Non welding travel speed: 3000 mm/min
Welding arms: 2sets
Welding power source: 2sets
Soldering wire dimension: Φ3~Φ5 mm
Welding flux recycle system: 50L ×2
Drive mode: bilateral drive
Control mode: stepless frequency speed regulation
Power source: 380 V / 3 PH / 50 HZ
---
4. XMH14 Cantilever Submerged Arc Welding Machine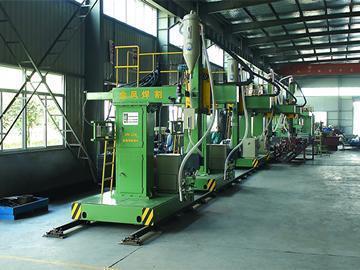 Rail span: 1400 mm
Rail length: 20000 mm
Flange slab width: 200-1000 mm
Flange slab thickness: 6-60 mm
Web height: ≥200 mm
Web thickness: 6-40 mm
Welding speed: 250-750 mm/min (decided by the welding process)
Non welding travel speed: 3000 mm/min
Welding mode: fillet welding in the flat position
Soldering wire dimension: Φ3-Φ5 mm
Base machine power: 4.87kW (do not contain electric welding machine power)
Welding arms: 1set
Welding power source: 1set
---
Product application
The steel H beam submerged arc welding machine can be mainly used for heavy steel production line and arc welding of ultra-high H beam. It can be used for industries such as machine manufacturing and structural steel construction etc.
Product features
The steel H beam submerged arc welding machine has the following features:
1. The weld is smooth and beautiful. The depth of weld leg of one-shot welding can be up to 8-12mm, so that it has less demand on the operation skill of the welder.
2. All the welding parameters are controlled by the panel of the control cabinet, so the operator can adjust the electric current, voltage, welding speed and some other parameters conveniently and in time.
3. It is equipped with weld tracing device.
4. The cantilever welding machine is suitable for large H beam welding.
5. The welding machine can be equipped with single arc single wire or double arc double wire submerged arc welding, so that it has higher efficiency.
Jinfeng introduction
Jinfeng Welding & Cutting Machinery Manufacture Co., Ltd has mechanical department, electrical department and software department. There is 80 people in the team in total. We also hire senior engineers from ESAB to carry out joint development and design of various structural steel H beam production lines, so that we have technical guarantee.
Jinfeng has strong production capacity: we have 13 imported CNC machining centers, 3 4mx12m large machining centers, so that the annual output of various submerged arc welding machine is 1000.
All the members of the sales team have more than 10 years of experience in service, so that they can provide customers with various consultation and services in time. Besides, Jinfeng is equipped with an after-sales service team of 30 employees, so that they can provide 24-hour after-sales service all year round.